This is an overview to our forthcoming program. All workshops and evening lectures are preliminary at this stage. It will be more detailed closer to the event.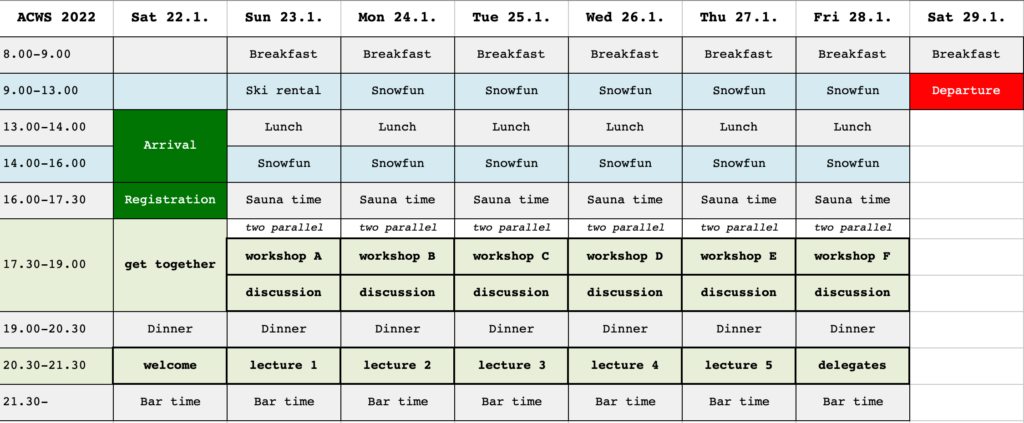 Workshops
Workshops will be repeated during the week (at least one more time). The following program will be available:
Architect – ingeneer collaboration
How to combine those two professions on an ArchiCAD model base. Example from office practice (residential building).
BIM survey-models
How to integrate external BIM survey-models (modelled from pointclouds) into my office-template; (work-envirnonment) methods and tricks
Design phase models – quantities calculation
How to get good quantities from your ArchiCAD-design-phase models for further building cost-calculations.
ArchiCAD version upgrade
management
How to bring your existing ArchiCAD project through ArchiCAD version upgrade properly; Libraries, work environment, BIMcloud basic, etc.
From design to fast detail- & workdrawings
ArchiCAD based design-phase done! How to set up fast work-drawings and detailing for rollout.
Architectural model – quickcheck
Setting up overwriting-rules and other helpful tools to check your ArchiCAD model before you deliver documentation to consultants.
Renovation filter – best practice
How to get best results and usability by using ArchiCAD renovation filters.
ArchiCAD graphic overwrites – the perfect control-tool
How to use ArchiCAD – graphic overwrites to get more control about your model and your documentation.
Manage your external references properly
How to set up and manage xRefs and hotlinked modules within your ArchiCAD projects workflows.
The stairs & rail-challenge
How to better work out staircases and railings in ArchiCAD with complex design parameters.
Evening Lectures and Showcases
Every evening we will offer you a lecture regarding to architectural practice-examples and showcases.
Megafiles management
Auhof-Center Shopping Mall, Austria
ca. 600m long 3-6 story high shopping center designed through last 25 years; started in Allplan, contiued in ArchiCAD since 2015; General design; Shopdesign; Gastro design, …
Student-Home
Interior design project, Vienna
4 storey/200 bed students home, Vienna; Interior design concept; furniture design, production, room book; modelling strategy, documentation issues;